Materials: Gold Filled Chain. Crystal Beads.
Necklace Length: 16" adjusts to 18"
"NEVER BE AFRAID TO SHOW YOUR TRUE COLORS." - Unknown
The Rainbow Necklace tells a story of Pride. LGBTQ+ pride is a world wide movement and philosophy asserting that Lesbian, Gay, Bi, Trans, Queer, non-binary people should be proud of their sexual orientation and gender identity resulting in a positive evaluation of themselves. Hallelujah! The rainbow has become this symbol to represent the diversity of people and encourage authenticity to be exactly who you are. Pride is for everyone. There is more work to be done to pave the way for people to live genuinely, openly and safely by increasing awareness and standing united.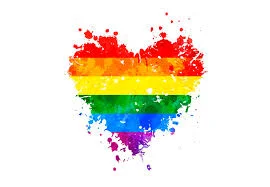 Sentimental Gift for Her
Sending gift with a personal touch. The sentiment with the gift will let your recipient know that they're in your thought and in your heart. When she wears this necklace, she'll have a reminder that the memory created between you will be treasured forever.